Framed Seascape by British Artist John Falconar Slater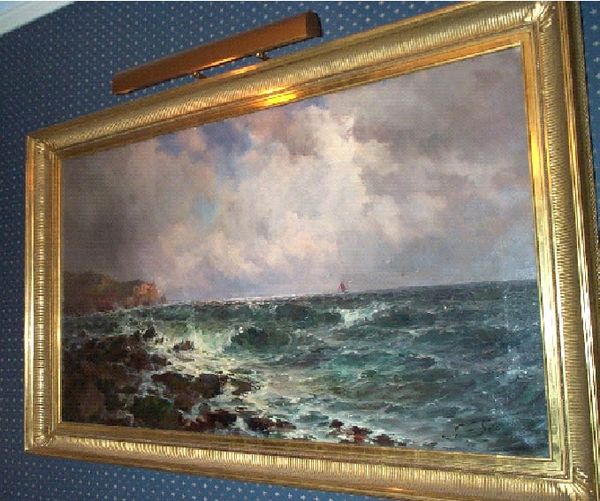 Framed Seascape by British Artist John Falconar Slater
Seascape by British Artist John Falconar Slater. Size: 36" x 56" framed / 29" x 50" unframed.
More about the art and artist
Slater, John Falconar – British 1857-1937
Painted between 1895-1905.
Size: 36" x 56" framed
29" x 50" unframed
From Wikipedia: The Bay Hotel, an important local landmark, was demolished in 2005. It is notable for a period in the 1880s when it was home to the American watercolour artist Winslow Homer who stayed in room 17 of the Hudleston Arms (1870) (later called the Bay Hotel), and maintained a studio across the road at No.12 Bank Top (demolished 1930). Homer was a resident in Cullercoats for approximately 18 months, from late March 1881 to early November 1882. An apartment block, named Winslow Court, has been built on the site of the Bay Hotel (2007).
Homer was the most famous of the professional artists who were part of the "Cullercoats Colony" in the period 1870–1920. Others included Henry H. Emmerson, Robert Jobling, Arthur H. Marsh, Isa Thompson, John Falconer Slater and John Charlton and visitors like Ralph Hedley.[4]
Cullercoats is interesting from an architectural perspective: on Simpson Street there is a row of fishermen's cottages which were preserved during the redevelopment of the village in the 1970s. Between the coast and the railway (now Metro) line are Victorian terraces. The land immediately on the other side consists of long avenues of semi-detached houses built between the wars. Another change can be seen along the line of Broadway where the housing changes again to mixed semi-detached/detached 1970s and 1980s housing estates built around long winding roads and cul-de-sacs. Also of note is St George's Parish Church as a good example of Gothic revival architecture.
Lived/Worked: United Kingdom