French Louis XV Style Pair of Large Bookcases / Cabinets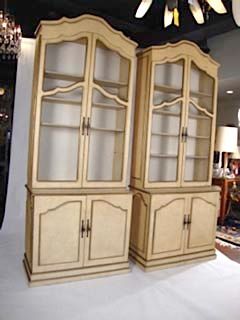 French Louis XV Style Pair of Large Bookcases / Cabinets
French Louis XV style pair of large bookcases / cabinets, with curved crown and openwork screening. With a French country lightness, these stately pieces are still elegant enough to anchor a room in sophisticated Parisian style. Safely display your favorite art pottery, pictures and rare books in the top shelves, while you organize storage items in the cubbies and shelves behind the doors of the bottom sections.
Each measure 95" Tall x 37.5" Wide x 18.5" Deep. Electrical wire opening (about 1 1/2 across pictured) in back of one cabinet.
Contact Us for pickup and delivery options.