Framed Ink Drawing of Horse by Frank Eliscu, Signed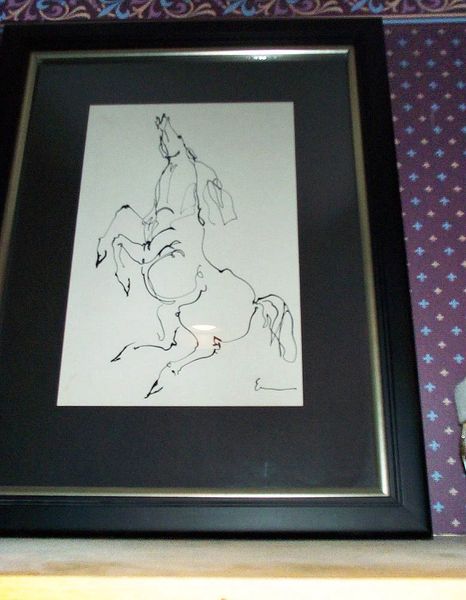 Framed Ink Drawing of Horse by Frank Eliscu, Signed
Ink Drawing of Horse by Frank Eliscu, Signed, Eliscu Frank (1912-1996)
Description: Ink drawing from listed artist Frank Eliscu. Eliscu (1912-1996) is shown as having spent time in Connecticut, Florida, and upstate New York and is listed in Davenport's, Fielding's, and Who Was Who as an artist and sculptor. In fact his sculptures (many of horses) can be found adorning the grounds of buildings throughout the country.
This unframed piece consists of ink drawing on paper laid down on cardboard mat board. The paper itself measures 9 ¾" x 14 ½", and the entire piece measures 15" x 20". Signed lower right. Titled "Rearing Horse." Exhibition label on back.
(From Ask/Art piece. Eliscu sculpted the Heisman trophy, Gerald Ford's inaugural medal and the state gift for the late Soviet leader Leonid Brezhnev. His sculptures stand in a bank in Rockefeller Center. A promethean screen Cascade of Books is mounted on the front of the James Madison Library of Congress building in Washington, DC. (Read this piece as much more is there.)).