Framed Seascape by Wilson Silsby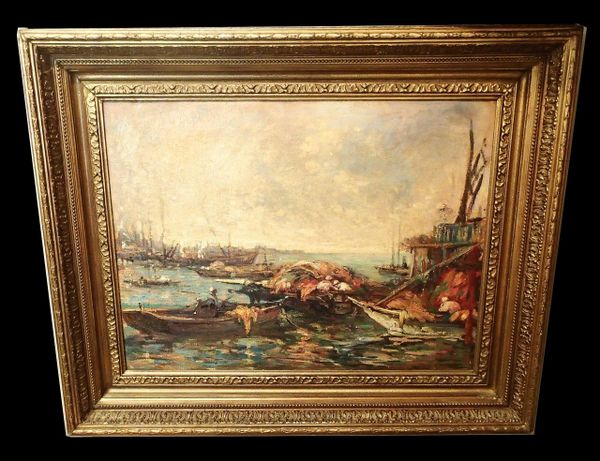 Framed Seascape by Wilson Silsby
Framed Seascape by Wilson Silsby. Measures 26 1/4" Tall x 32" Wide x 3 1/2" Deep.
More information about the artist
Silsby, Wilson Eugene – 1883-1952
www.askart.com says:
Wilson Silsby was an etcher, lighographer and painter, known especially for his invention of the no-ground etching plate and for his stage-set designs for the theater and motion picture industry. He was born in Chicago and died in Los Angeles. He attended high school in Chicago and later studied privately with William Merritt Chase and Abbott Thayer.
In 1913, he moved to Los Angeles where he first worked as an art director for Universal Pictures. In the 1920s, he began etching and wrote …….(showing 500 of 2,450 characters because I don't subscribe).
From Who Was Who In American Art pub. 1985:
(Et, Li, P, W, T) Los Angeles, CA born October 7, 1883, Chicago died January 17, 1952. Studied: W. Chase; A. Thayer; F. Holmes. Exhibited: Salon d'Automne, 1922; Societe des Artistes Francais, Paris, 1923; PAFA, 1935; GGE, 1939; Columbus Gal. FA, 1939 (one-man); Gumps, San Francisco, 1926 (one-man). Work: MET; LOC; Rockefeller Fnd., Paris; AIC; PAFA; BMFA; NYPL; PMA; CAM; Currier Gal. A.; BM; Crocker A. Gal.; W. R. Nelson Gal.; CM; CMA; Oakland A. Gal.; Mus. N. Mex.; Toledo Mus. A.; SAM; Denver AM; Springfield (Mass) MFA; Ft. Worth Mus. A.; Brooklyn Public Library; H. H. deYoung Mem. Mus., San Francisco; N. J. State Museum. Trenton; SFMA. Author/Illustrator: "Etching Methods and Materials," 1943. Inventor: "No ground" etching plate. Des. Stage sets. Position: A. Dir., various motion picture companies.