Framed Landscape oil on Canvas Mildred Martin Smith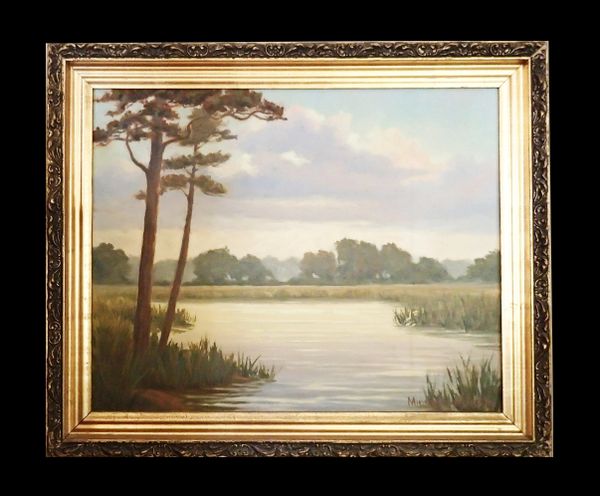 Framed Landscape oil on Canvas Mildred Martin Smith
Framed Landscape oil on Canvas by Mildred Martin Smith. Measures 23 1/2" Wide xx 19 1/4" Tall. Contact Dealer for pricing.

More information about the art and artist
Martin, Mildred Smith – born May 12, 1900
Size 16" x 20", Framed 19 ½" x 23 ½". Write-up from Seller: This glowing and very peaceful looking landscape scene is an authentically hand-painted oil on panel created and signed by the exceptional listed luminist American artist Mildred Martin Smith (b.1900/Philadelphia, PA.) who's listed in Davenports, Who's Who, and other well-respected art reference manuals. ……This original oil on panel is both a colorful and well-detailed piece, which features a beautiful open meadow accompanied by a very serene, glass-like pond that serves in reflecting the sunset that's fading behind it.
From "Who Was Who in American Art," copyright 1985:
Martin, Mildred Smith (painter) Philadelphia, PA born May 12, 1900. Studied: Pennsylvania Academy of Fine Arts; Paris. Exhibited: watercolor, Gimbel's, Philadelphia, 1933, prize (40).