Framed Floral Painting by Emily H. McGary Selinger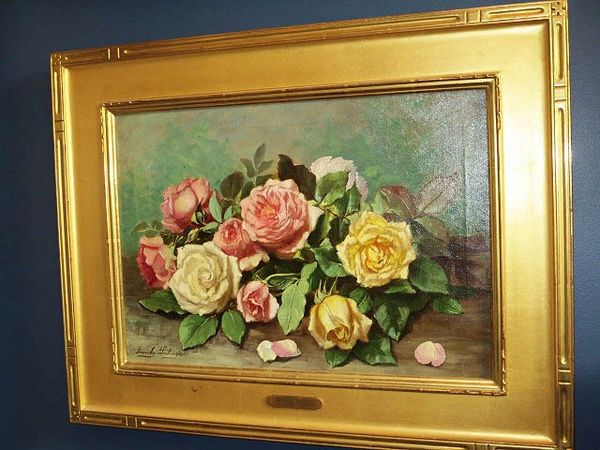 Framed Floral Painting by Emily H. McGary Selinger
Floral Painting by Emily H. McGary Selinger.
More about the Artist and Painting.
Selinger, Emily H. McGary 1848-1927


Floral painting with pink and yellow roses. Painted approximately 1890. She was a Rhode Island artist who belonged to the Providence Art Club. (1848-1927)
Size: 19" W x 13 ½"H
Framed: 27"W x 20 1/2H
From: Who Was Who in American Art, copyright 1985.
SELINGER, Emily H. McGary (Mrs. Jean P.) Painter. Residence Boston. Born Wilmington, North Carolina. Studied: Amalia Rocchi, Florence; Margaret Roosenboom, Holland. Exhibited: Massachusetts Charitable Mechanics Association, Boston (med). Specialty: flowers (10) Born: 1848, died 1927.
Husband: SELINGER, Jean Paul. Painter. Residence: Boston. Born June 24, 1850. Died September 11, 1909. Studied: Munich Academy; W. Leibl; Lowell Institute, Boston. Member: Boston Art Club. Exhibited: Munich Expo. (prize); Massachusetts Charitable Mechanics Association, Boston (med); Osborne Exhibition, N.Y., 1905 (prize). Specialty: figures (08)
Emily Selinger's name mentioned in: American Art Review, October, 2000 issue under an exhibition entitled : "A Taste for High Art – Boston and the Boston Art Club 1855-1950" open from October 12 – December 29, 2000 at the Vose Galleries, 238 Newbury Street, Boston.
10-18-2000
artnet.com web site says that Selinger also studied at the Cooper Institute in New York City. She was Art Correspondent for Boston Evening Transcript from Europe. From 1885-1905 she was a member of the Boston Art Club.
9-29-01
AskArt.com: Emily Harris Mcgary Selinger 1848-1927
Strongest affiliation – Massachusetts – Often known for: floral still life, landscape, marine: category of interest – White Mountain Artists.
This biography from the archives of AskArt.com
Born in Wilmington, North Carolina, Emily Selinger moved to New England and attended school in Providence, Rhode Island. She studied at Cooper Institute of Design in New York, in Florence, Italy with Amalia Rocchi, and in Holland with Margaret Roosenboom.
In 1882, she married Jean Paul Selinger, a well-known artist, and they toured Europe for three years, spending most of their time in Germany. During that trip, she served as special correspondent for the "Boston Evening Transcript." She was a key person in founding the Normal Art School in Louisville, Kentucky. She and her husband spent summers in the White Mountains of New Hampshire.
More information about this artist and her husband can be found at the New Hampshire Historical Society in Concord, New Hampshire. The following article about the Selingers was published by New Hampshire Historical Society: "Jean Paul and Emily Selinger," by Charles and Gloria Vogel, HISTORICAL NEW HAMPSHIRE, summer 1979, pages 125-142 (Vol XXXIV).
__________________
Listed in Vose Art Notes – A Guide for Collectors, Vol. 9, Winter 2000. Page 17, Winter Exhibition and Sale: Emily H. M. Selinger (1848-1927). Chrysanthemums not dated. Oil on canvas, 24 x 36 inches, #32686. $17,500.00. Emily Selinger studied painting at the Cooper Institute in New York before traveling to Florence and Holland. In 1882 she married Boston artist Jean Paul Selinger and they made an extended trip through Europe. After their return they established a studio at 711 Boylston Street which soon became a colorful gathering place for artists, musicians, and stage performers. From 1883 until Jean Paul's death in 1909 they summered in the White Mountains of New Hampshire.